Just like physical health, mental health is something we all have and just like our bodies can become unwell. Mental health includes our emotional, psychological and social wellbeing. It affects how we think, feel and act.
At Lethbridge Primary School, we always aim not just to educate your children but also to care for and nurture them.
Having a positive Mental Health helps your child to:
learn and explore the world
feel, express and manage a range of positive and negative emotions
form and maintain good relationships with others
cope with, and manage change and uncertainty
develop and thrive.
Click on the image below to see the 5 Steps to Mental Well-being that we promote throughout our school.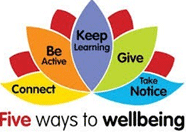 You might find these links below helpful:
Young Minds
The Dock Swindon
On Your Mind
Useful Leaflet
Start Living STOP Stressing